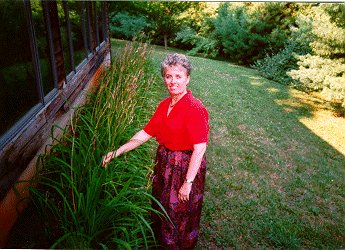 Hi! My name is Elaine Pack. I'm a retired Web Analyst with the County of Albemarle in Charlottesville, Virginia, home of the University of Virginia. I'm married to Leon Pack, and have one child, Leslie,
We had two Border Terriers, a female named Poppie (b.1989) and a male, Rudy (b.1999). Sadly, we lost Poppie in December 2004, and Rudy way too early in September 2009, but they will alway be in our hearts and never forgotten. I was also an Air Force brat growing up so I've done a LOT of traveling around in my life. If you are mildly interested or suffer from insomnia, this is my background.

I've spent most of my career in a corporate two-step with my husband, starting in Northern Virginia, with stops along the way in New Haven, CT, Jackson, MS, Dallas, TX, only to end up in Charlottesville, Virginia, or more specifically, in Ivy, on the western side of the county with wonderful mountain views, where we spent a LOT of years.
In 2015 we started looking around to decide where we wanted to retire, and discovered that Charlotte, NC, would be a GREAT place to retire, given it's a big city, and we are city kids at heart. We are also DONE DONE DONE with snow :) We found a community we liked in north Charlotte, and built a home there. I retired from the County on September 30, 2016, and on October 3, 2016, we moved to Charlotte full time. We've never looked back.