Who am I?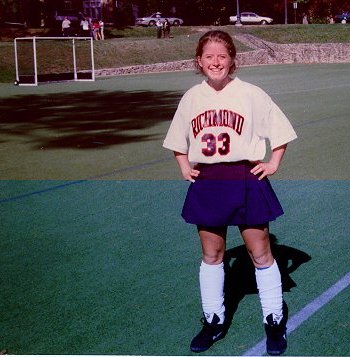 THIS IS A VERY OLD PAGE!!! I graduated from the University of Richmond in June, 2000, and am now getting my MBA at Wake Forest University! but just haven't had time to do a new one. Sorry!
Sign my Guestbook!
View My Guestbook

Leslie's Senior Pictures! Which one do you like best?
A few more pictures of Leslie
NOTE-pictures may be time-consuming to load on slow connection!
I know, I know, I need to update this page :) I'm at the University of Richmond now, and playing Division 1 field hockey for the Spiders

, so I haven't had much time to do stuff like this. Oh well, maybe after the season is over.
---
Hi! I am currently (as of October, '95) entering my senior year at Virginia Episcopal School, a boarding school in Virginia that I have attended for the past 3 years. This has enabled me to experience an unique situation during high school because I have met many people from different areas. My friends live in Virginia, North and South Carolina, and Florida.
I am a good student who tries to excel in most areas. I attempt to challenge myself in the classroom by taking some more difficult classes. Sometimes my drive gets me in "over my head" :), but I can usually handle my work. School is hard for me, and I need to work harder than most. This year in school, I am attempting to take English 12, Physics, Spanish 4, Calculus, and Advanced Placement History. This year will definitely be crazy.
This year I am a Counselor, which is an elected senior position at my school voted upon by the student body, faculty, and headmaster. There are 20 of us, and we all feel extremely privileged to have earned such a position. Our duties include being the head of your dorm hall, organizing homecoming, and various events throughout the year. We also help in new student orientation in the beginning of school and "act" as leaders. I am excited about this, and I am looking forward to the impending year.
Athletics also plays a large role in my life, and I am deeply involved in my high school's programs. I play field hockey in the fall, soccer in the winter, and lacrosse in the spring. Yes, soccer in the winter, and it is VERY cold! I hope to play Division I field hockey/lacrosse in college. This year is going to be exciting because I will finally know where I will go to college. NEWS FLASH!I've just signed a National Letter of Intent to play Division 1 Field Hockey at the University of Richmond! I am REALLY excited!
I also have been part of a national program for field hockey called Futures, which is the Olympic Development Program for high school players.
My mother is a Web Analyst. She is also the Web Master for our County's home page. My father is an Investment Banker, and I am proud of both of them. I am an only child, and I enjoy it. My parents are extremely over-protective, but I know they just love me. Plus I get all the attention! :)
Instead of a sibling, I have the closest thing to it-My dog Poppie.
She is a Border Terrier, and she can probably trace her roots farther back than I can. Poppie is a GREAT dog, and my whole family loves her. My father grumbles that she is not worth the money we paid for her, but he loves her too.
You can always send me email via my mom (put something like "For Leslie" in the subject and she said she would pass it on to me) here I will have a new email address next fall, tho, when I get to UR.
---
(Various stuff Mom is testing)
This page has been accessed [an error occurred while processing this directive] times.
Last Changed on 1/16/96 by epp